Web Application Firewall (WAF) - A Complete Website Security Solution
Web application firewall is a security mechanism placed between your DNS server and the web server. This prevents anyone from the internet directly accessing the website. Every request first comes to the WAF and it will process the request, reject bad requests and route the good to the web server.
Website attack is very common now a day. The attack is more visible in open source cms such as WordPress, Joomla and eCommerce packages such as Magento. Apart from these, almost every website is being attacked. You might have seen that when visiting some reputed websites, we see warning from the browser saying that the website is infected with malware or classified as the phishing site. The browser ultimately blocks accessing the website.
Why your website is hacked or targeted?
Hackers have their goal while attacking a web site. Your website may have some valuable data (your customer information) or payment details such as credit card. They also wish to use your website to send out spam emails or add phishing pages to your website. While seeing a phishing page, your regular customers think that it's genuine page and they enter their credentials in that. As soon as it is done, the information is emailed to the hacker and they will use it for bad things.
Adding a WAF to secure your website does not require any modification in your code or application. You will need to point your domain to the IP address of the WAF. The WAF will route good traffic to your remote web server.
If your website is hacked or if you wish to protect your website you can purchase it right now. Purchase WAF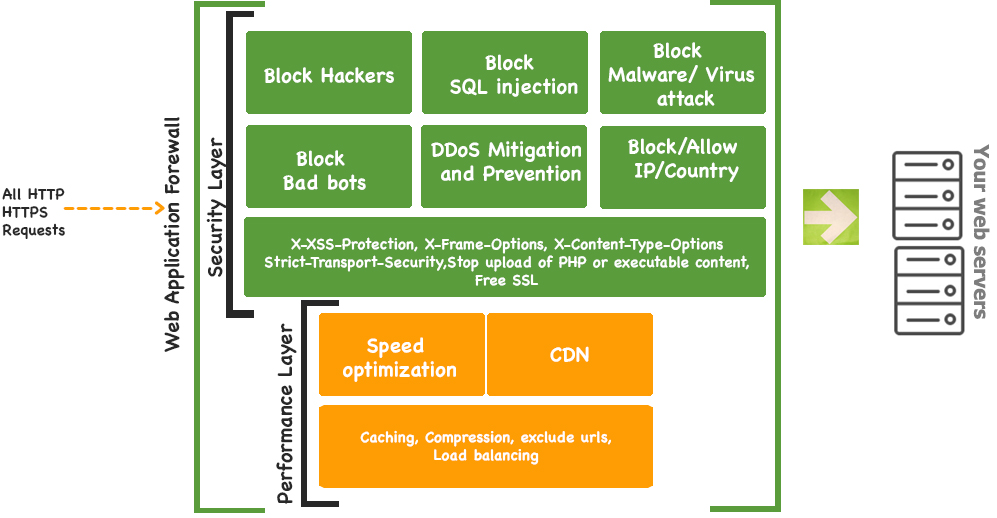 How much does it cost?
When you purchase it as a stand-alone package, it costs you monthly $50 (Maximum) to protect a web site. When you purchase it along with other hosting product the price will go down. There is no setup fee for this.
Who will do the setup?
Once you purchase, we will do everything for you.
How much time is required?
It requires 10 minutes only. But, if you are opting for free SSL certificate, it may take a couple of hours to activate the certificate.
Is there any down time?
No, there is zero downtime in normal case.
Can I add more websites?
Each website requires separate subscriptions.

Compression
Compression is enabled by default. Compression helps to reduce size of static files such as css, js, images etc.

Developer Mode
If your developers want to work on the live with without disabling the caching, you can add developer's IP. This will make sure that actual visitors will see cached content while developer see the changes he makes on the web site.